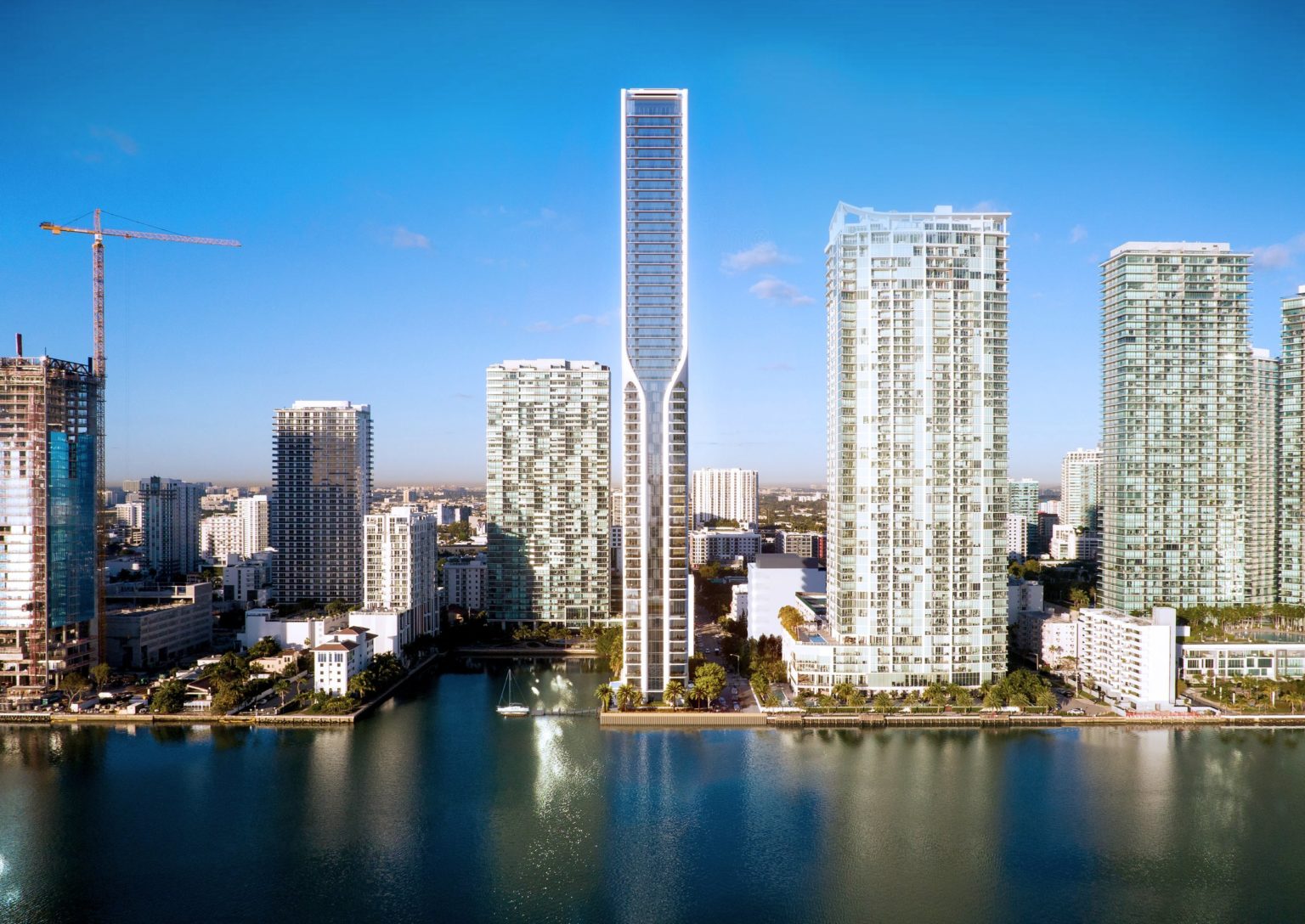 Developers Sign Utilities Deal For Ultra-Luxury 55-Story High Rise 710 Edge In Edgewater, Miami
A utilities deal for water and sewer connections has been signed with the City of Miami for 710 Edge, a 55-story ultra-luxury residential high rise planned for 710 Northeast 29th Street in Edgewater, Miami. Designed by ODP Architecture & Design and developed by 710 Edge LLC – a joint venture partnership between One Thousand Museum developers Kevin Venger, Louis Birdman, Michael Konig, and real estate developer Alex Posth, the newly signed deal includes connections for 100 residential units and 31,418 square feet of retail. The developers executed the deal on August 28, 2022.
The utilities deal reveals a major increase in the residential count and retail space compared to the initial plans included in last year's UDRB filing, which proposed the project with 70 units and 13,037 square feet of retail space. The building is planned to rise 646-feet, or 649-feet above sea level, over a 0.47-acre site according to building permits filed with the FAA last year.
Demolition permits were filed for existing residential buildings at 530 and 710 Northeast 29th Streets between the end of July and the beginning of August to make way for the new tower. Dade Wrecker Service LLC is listed as the contractor for both jobs, with an estimated total cost of $176,000 for both sites. Developers also applied for permits to install 4-foot high walls/fences around the property; Hma Mngmt Corp Ceros Fence Corp is listed as the contractor. Both permits are still under review by the Department of Buildings.
710 Edge, alternately referred to as 729 Edge, features a design reminiscent of Zaha Hadid's design for One Thousand Museum on Biscayne Boulevard, where ODP Architecture & Design served as the architect of record. The entire project is planned to yield over 460,000 square feet of space between the tower, commercial spaces and parking garage. The tower itself will have a small parking component, but the majority of parking spaces would be within a separate structure to be built on a 0.41-acre site at 483, 485, and 501 Northeast 29th Streets with a commercial component on the ground floor. The tower's lower floor will include the residential lobby, restaurant spaces, a waterfront-facing sky lounge and amenities between floors five and eight. The majority of the residences will begin on the tenth floor, with units ranging from three to five bedroom floor plans, all including private terraces. Amenities include a helipad, a fitness center, a spa and salon, theatre room, private dining areas and a lounge bar, juice bar, owner's storage, an indoor pool and locker rooms. The top floor will have a 1,025-square-foot event lounge and sky lobby. Developers will also include improvements to the bay walk.